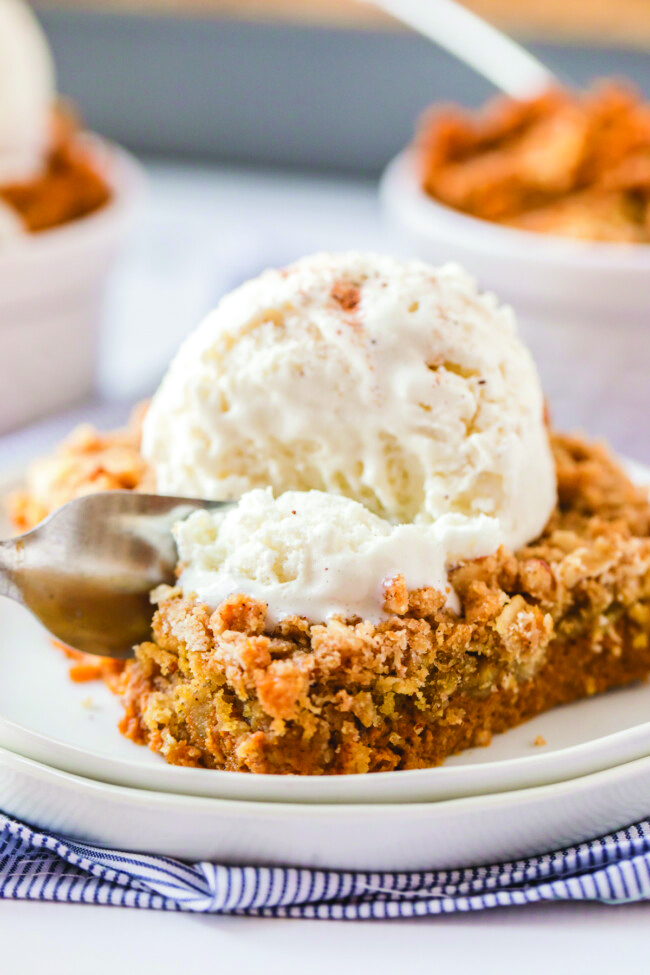 FOR THE PUMPKIN FILLING
3 large eggs, lightly beaten
½ cup light brown sugar
½ cup granulated sugar
1 15-ounce can 100% pure pumpkin puree
2/3 cup evaporated milk
1 tsp pure vanilla extract
1 tsp pumpkin pie spice
1 tsp ground cinnamon
FOR THE CRISP
¾ cup Old Fashioned oats
1 cup all-purpose flour
½ cup pecans, chopped
½ cup light brown sugar
¼ tsp baking powder
1 tsp ground cinnamon
½ cup salted butter, melted
1. Preheat oven to 375 degrees F.
2. Whisk the eggs and both sugars together in a large bowl until smooth.
3. Add the pumpkin to the bowl with the evaporated milk, vanilla extract, spices and salt. Whisk until smooth.
4. Pour pumpkin filling into a greased 9x13 inch pan and smooth to the edges.
5. Add all the crisp ingredients in a small bowl and stir until combined.
6. Sprinkle crisp mixture evenly onto the top of the pumpkin filling
7. Bake uncovered for 35-40 minutes. The pumpkin crisp should be golden brown and bubbly.
8. Remove from the oven and let cool for 5 minutes before serving.
9. Serve warm with ice cream or whipped cream.