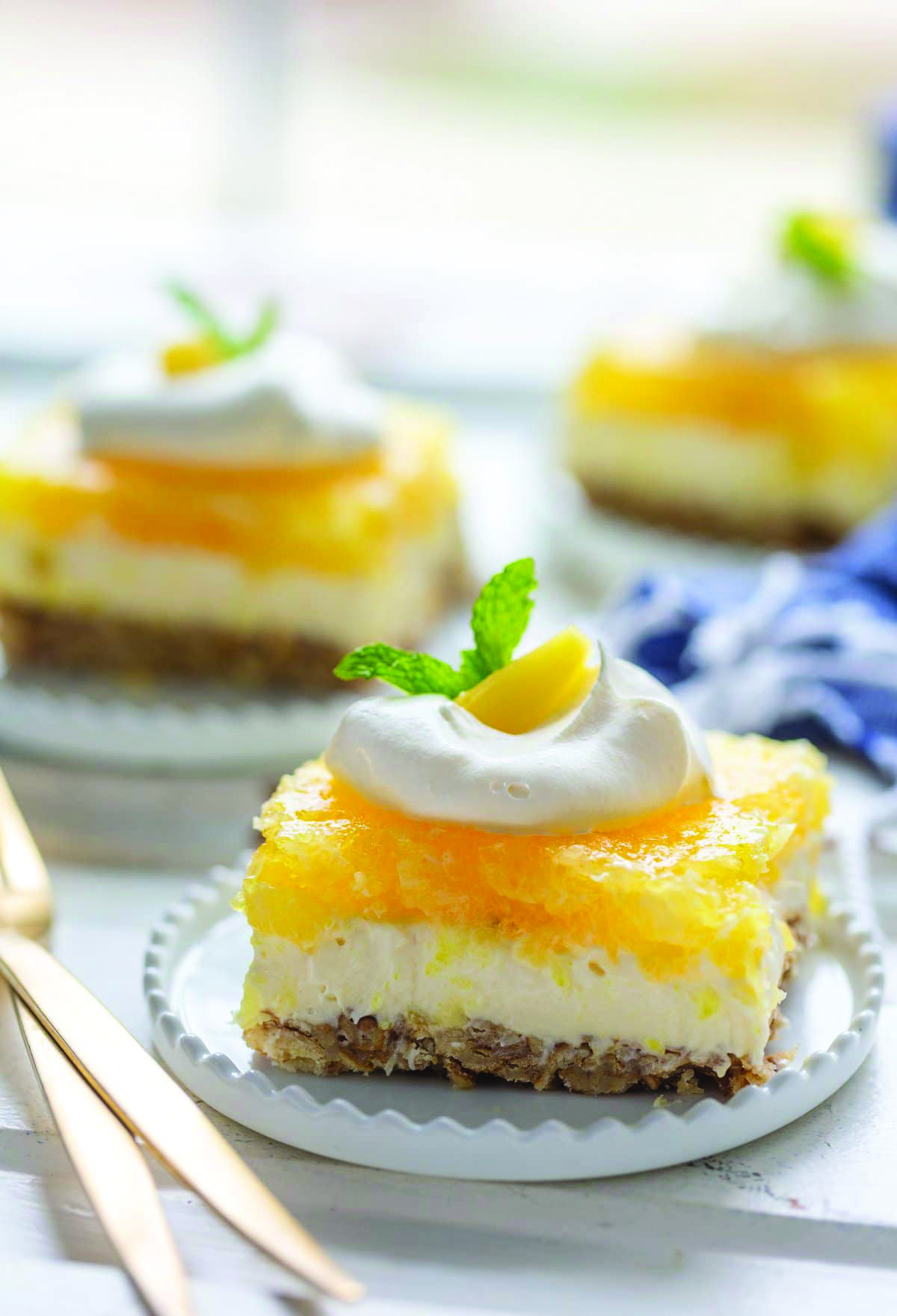 2 cups crushed pretzels
1 cup melted salted butter
3 tablespoons granulated sugar
2 (3 oz) packages pineapple gelatin
1 cup boiling water
1 cup crushed ice
2 (20 oz) cans crushed pineapple in syrup, drained
2 cups whipped topping
1 (8 oz) package cream cheese
1 cup granulated sugar
Garnishes:
Extra whipped topping, canned pineapple tidbits & mint leaves
1. Preheat oven to 350 degrees F.
2. Combine crushed pretzels, melted butter and sugar in a medium bowl. Transfer pretzel/butter mixture to an ungreased 9x13-inch baking dish. Spread the mixture evenly over the bottom of the dish. Bake 10 minutes Transfer to a wire rack and set aside to cool completely.
3. For the topping layer and while the crust cooks: Bring 1 cup water to a boil in large heatproof bowl. Sprinkle the gelatin over the boiling water and stir until it dissolves. Add 1 cup crushed ice and stir until ice dissolves. Pour the pineapple into a strainer, and use the back of a large spoon or a rubber spatula to press the pineapple against the sides and bottom of the strainer to press out as much liquid as possible. Add the drained pineapple to the JELLO and stir well. Refrigerate 15 minutes or until partially set.
4. While the pineapple mixture sets, in a large bowl, cream together 2 cups whipped topping, cream cheese and sugar. Beat until smooth. Spread over the cooled crust.
Carefully spoon the slightly thickened gelatin mixture over the cream cheese layer. 5. Cover and chill 4-6 hours (or overnight) or until firm.
6. Cut into squares, and if desired, garnish with whipped topping, pineapple & mint leaves.