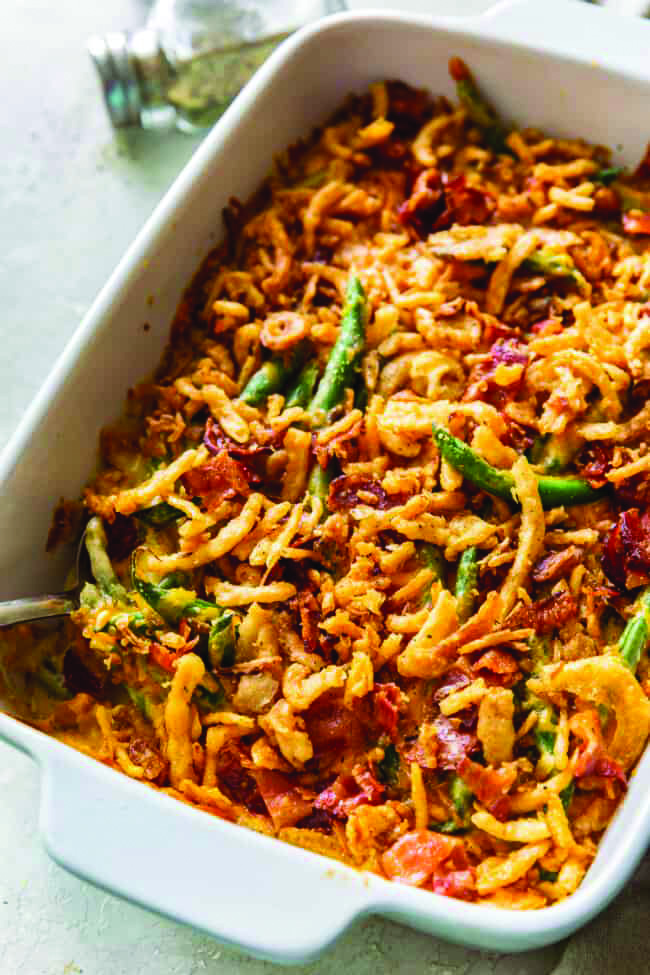 1 pound green beans, trimmed
14.5 ounces condensed Cream of Mushroom soup (1 can)
1 cup milk
1 teaspoon Worcestershire sauce
1 teaspoon garlic powder
1 teaspoon black pepper
2 cups shredded cheddar cheese, divided
4 slices cooked bacon, crumbled
1 ½ cups french fried onions
 

1. Preheat the oven to 350 degrees. Spray a 1-quart casserole dish with cooking spray and set aside.
2. In a large pot of boiling water, add green beans and cook for 3 minutes, until bright green. Drain, then place in an ice bath to cool. Transfer to a large bowl and set aside.
3. Meanwhile, in a saucepan set over medium heat, whisk together the soup, milk, Worcestershire sauce, garlic powder, and pepper. Bring the mixture to a simmer, then whisk in 1 cup of the cheese until completely incorporated. Pour over the green beans and toss to coat, then transfer to a casserole dish.
4. Top with remaining cheese, then bake for 20 minutes, until warmed through and bubbling around the edges.
5. Top the casserole with fried onions and the crisp bacon and bake for an additional 5 minutes.