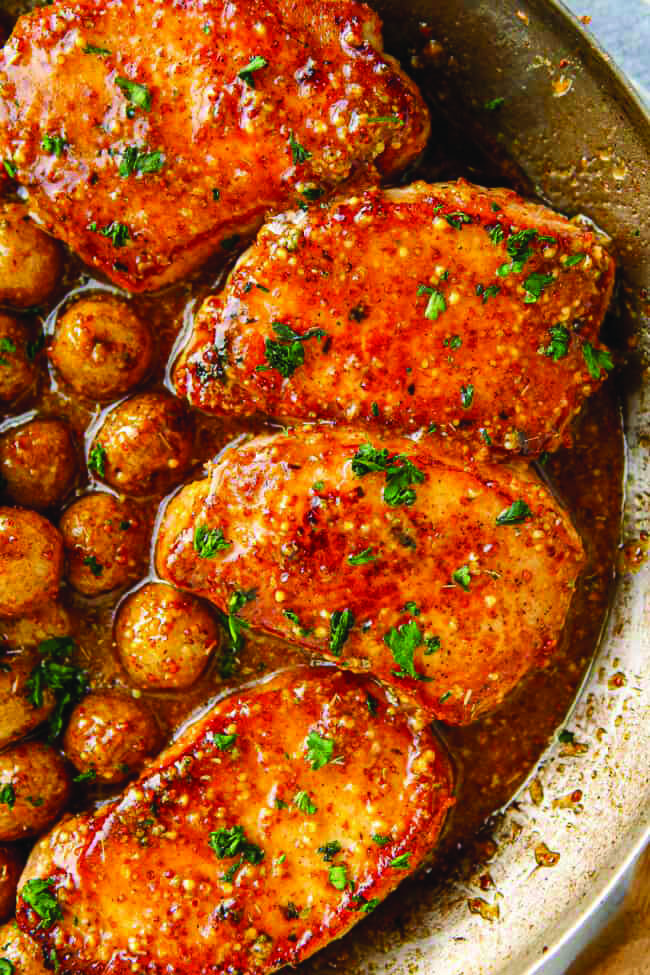 4 boneless pork chops
1 lb baby yellow potatoes
4 tablespoons olive oil
½ cup chicken broth
⅓ cup honey
⅓ cup coarse dijon mustard
1 teaspoon garlic powder
1 teaspoon onion powder
½ teaspoon dried oregano
½ teaspoon paprika
Salt and pepper to taste
1 tablespoon fresh chopped parsley for garnish
 
1. Par-boil the baby potatoes in salted water until tender when pierced with a fork.
2. Heat 1 tablespoon of the olive oil in a large skillet and cook the baby potatoes until the skin is golden brown. Set aside.
3. Pat the pork chops dry with a paper towel and season with salt and pepper.
4. Using the same skillet, add another tablespoon olive oil and pork chops. Cook for 4-5 minutes per side, until cooked through. Set aside on a plate and cover with aluminum foil to rest.
5. In a small bowl, whisk together remaining olive oil, dijon, honey, broth and seasonings until well blended. Add to the skillet and cook on medium-high heat until sauce thickens. Return potatoes and pork chops to the skillet and toss in the sauce. Garnish with fresh chopped parsley and serve immediately.