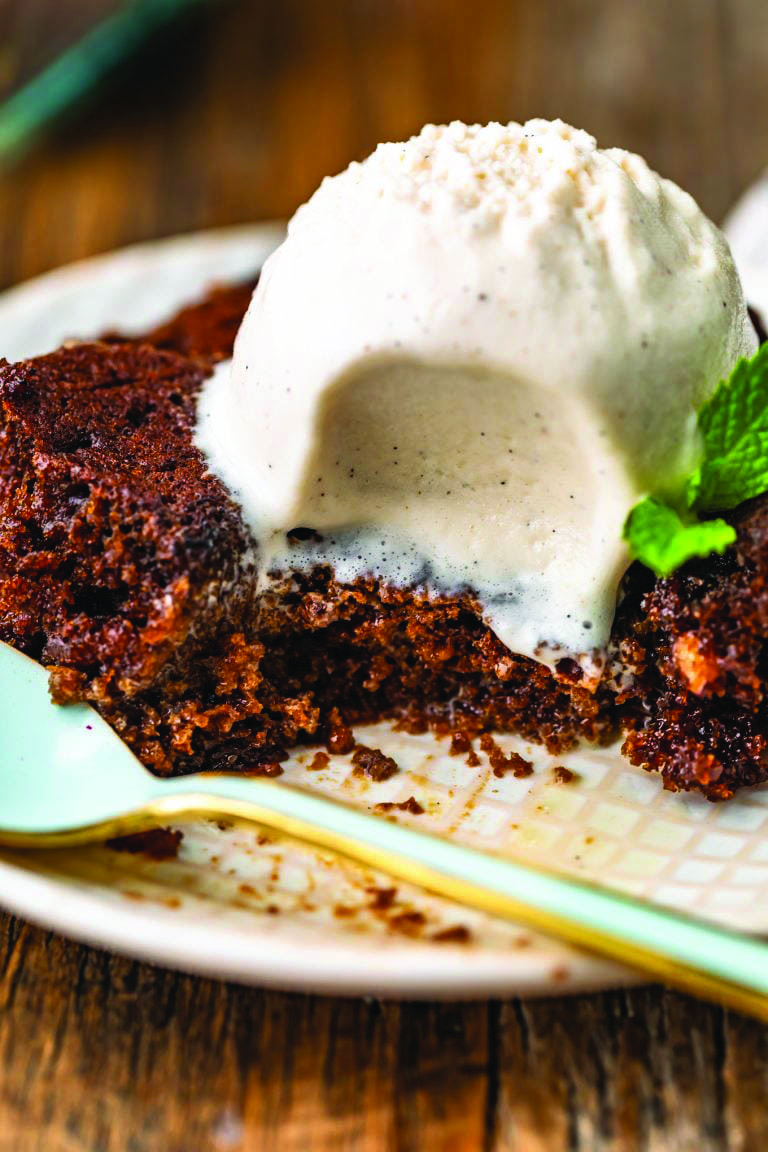 1/2 cup molasses
1 cup water
1/4 cup salted butter softened
1/4 cup sugar
1 large egg white
1 teaspoon vanilla extract
1-1/4 cups unbleached white all purpose flour
3/4 teaspoon baking soda
1/4 teaspoon salt
1/2 teaspoon ground cinnamon
1/2 teaspoon ground ginger
1/8 teaspoon ground nutmeg
1/2 cup honey roasted pecans
6 tablespoons brown sugar
3/4 cup hot water
2/3 cup salted butter melted
Sprinkle of coarse sea salt
Vanilla bean ice cream for garnish 
1. Preheat oven to 350F and grease a 9x13 baking dish. Set aside.
2. Mix the molasses with the 1 cup water.                                                                                                                                                                                                 3. In a stand mixer, cream softened butter with the sugar for 1-2 minutes until light and fluffy. Add in the egg and vanilla until smooth. Pour in the molasses mixture and stir.
4. In a separate bowl, stir together the flour, baking soda, salt, and all spices.
5. Add the flour mixture into the molasses mixture, beating well to fully combine. Stir in the pecans.
6. Pour mixture into baking dish. Sprinkle with brown sugar. 
7. Sprinkle lightly with coarse sea salt (just a little bit)
8. Mix hot water with melted butter with a fork. Pour over the cake batter, but do not stir.
9. Cook for 45-55 minutes or until cracked on top and toothpick inserted into the middle comes out clean.
10. Serve warm topped with vanilla bean ice cream. Enjoy!