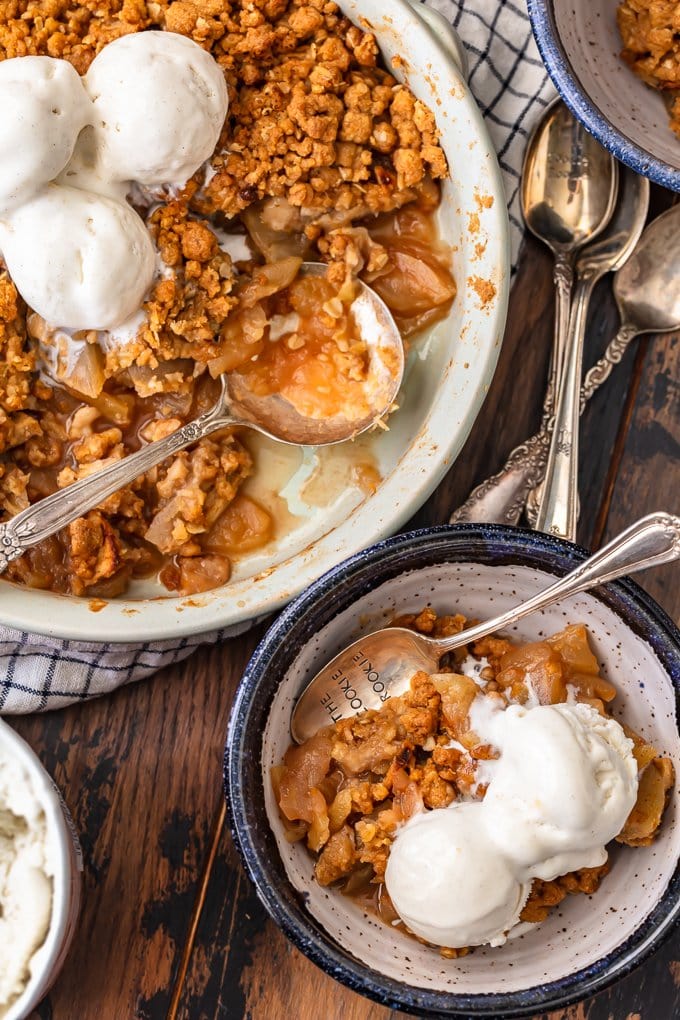 For the Apple Filling:
8 Granny Smith apples sliced (8 cups, sliced)
Juice from 1 lemon
Zest of 1 orange
¼ cup light brown sugar
¼ teaspoon kosher salt
1¼ teaspoon apple pie spice

For the Crumble Topping:
½ cup butter room temperature
½ cup light brown sugar
1 cup flour
¼ teaspoon kosher salt
½ teaspoon apple pie spice
¼ cup quick oats
¼ cup slivered almonds or chopped pecans optional
For the Apple Filling:
1.Wash and dry the apples. The apples can be peeled or unpeeled; it's a personal preference. Slice the apples into 1/4-inch slices and place in a large bowl.
2. Squeeze the lemon juice over the apple slices and toss so the apples slices are covered with lemon juice. This will prevent the apple slices from browning.
3. Add the orange zest, brown sugar, kosher salt and pie spice. Mix well.
4.Pour the apples into the prepared baking dish and set aside.
For the Crumble Topping:
1. In a large bowl, combine butter, brown sugar, flour, salt, pie spice and oats. Mix and squeeze the mixture with your fingers until it clumps in pea-size pieces. It should be a little drier than cookie dough. If it is too moist, add a little flour until it is pea and smaller size pieces.
2. Sprinkle the crumb mixture over the apples to cover the apples, in a thin layer, but leave some of the fruit peeking through.
To Bake:
1. Place the Apple Crisp on a foil-lined baking sheet and bake at 375°F 45-60 minutes until the apples are bubbling and the crumble is golden brown.