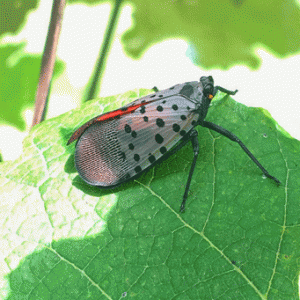 Delaware's agricultural community is in danger and Delaware Electric Cooperative is taking action to help. The latest threat to our local farmers is the spotted lanternfly. The invasive insects are small – about an inch long — but they are incredibly destructive.  First discovered in southeastern Pennsylvania several years ago, the pesky bugs have now been spotted as far south as Harrington.
In late 2020, Kent County joined New Castle County on the Delaware Department of Agriculture's lanternfly quarantine list. To meet state mandates to prevent further spread of the lanternfly, DEC employees are now required to inspect all vehicles and equipment being used in Kent County before traveling to Sussex County. Delaware's southernmost county is not on the state's quarantine list.
The bugs feast on plants and foliage and can devastate grapes, apples and other fruit crops. The lanternfly is commonly called the hitchhiker bug, due to its ability to attach itself to vehicles, firewood, grills, plants, lumber and other materials that are frequently moved across state and county lines. The new Co-op lanternfly inspections are designed to prevent the bugs from hitchhiking on Co-op vehicles.
DEC employees received training in November to help them identify the lanternfly and its eggs. Tim Kerstetter, DEC's Assistant Manager of Safety, Security and Training has been certified by Delaware's Department of Agriculture to provide training about dangers the lanternfly poses. "If employees find a lanternfly, we are asking them to take a photo of the bug, destroy the insect and then alert our safety and security team. Our team will then report the find to the Department of Agriculture. We all need to do our part to protect our local farmers."
DEC has received permits from state officials that need to be hung in all Co-op vehicles. They let agricultural officials and the public know that DEC employees are actively working to prevent the spread of the lanternfly.
Kerstetter said he expects Sussex County to eventually be added to Delaware's quarantine list and hopes DEC employees will do everything they can to mitigate the spread of the invasive critter.
"We're working to be a responsible employer and we want to support our local farmers — we must protect their crops and their livelihoods. It's the right thing to do," he said.