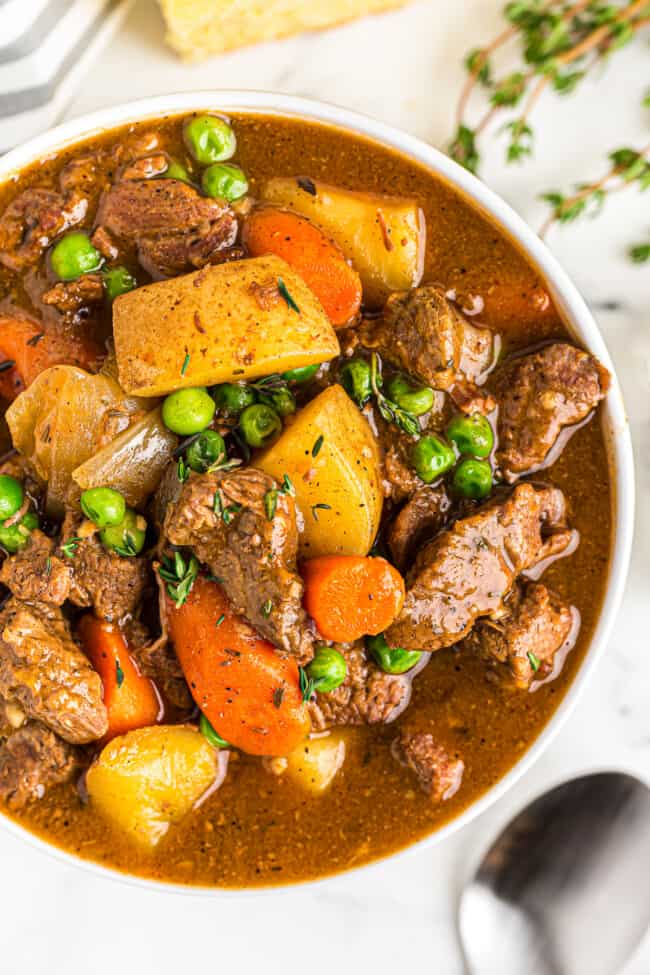 3 Tablespoons olive oil
3 pounds stew meat, 1-inch pieces
2 teaspoons salt, divided
2 teaspoons pepper, divided
4 cups beef broth
2 Tablespoons tomato paste
1 Tablespoon Worcestershire sauce
½ Tablespoon balsamic vinegar
1 teaspoon dried thyme
5 teaspoons minced garlic
1 large yellow onion, diced into 1-inch pieces
6 medium carrots
2 pounds Yukon gold potatoes, diced into 1-inch pieces
¼ cup flour
12- ounce package of frozen peas
1. Season beef with 1 teaspoon salt and 1 teaspoon black pepper. In a large skillet, add olive oil and heat to medium-high. Sear meat working in batches, cooking meat for about 5 minutes per batch. Transfer seared beef to slow cooker.
2. Pour in beef broth. Add tomato paste, Worcestershire sauce, balsamic vinegar, remaining salt and pepper and thyme. Stir to combine.
3. Add diced onion, carrots and potatoes
4. Cover and set on low for 8 hours.
5. At the end of cook time, make a slurry by combining 1 cup of hot liquid from the crockpot with ¼ cup flour. Stir slurry until fully combined. Add to slow cooker, stir to incorporate.
6. Cook 10 more minutes on high until sauce thickens.
7. Add frozen peas, then serve immediately.