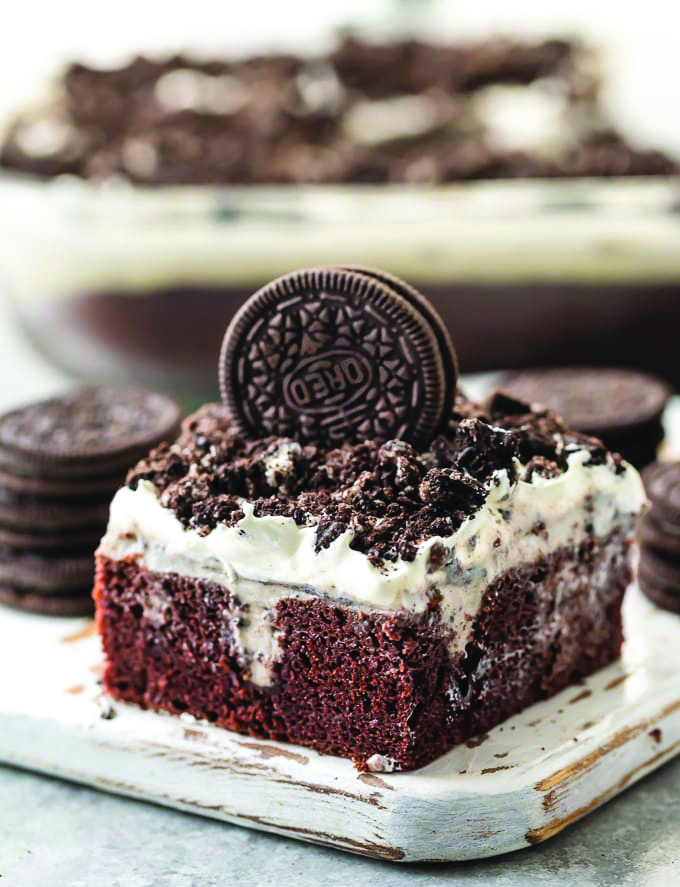 1 (15.25 ounce) box chocolate cake mix, baked per box instructions.
2 (4.2 ounces, each) boxes Instant Oreo Pudding mix
3 cups milk (at least 2%)
1 (8 ounces) tub of whipped topping, thawed
1 (14.3 ounce package) Oreo Cookies, half crushed & half left whole
1. Heat oven to 350°F and spray a 9x13 baking dish with non-stick cooking spray. Bake cake per instructions on the box.
2. Transfer cooked cake to a cooling rack and let it cool 10 minutes.
3. Use the rounded handle (diameter ¾-1 inch) of a wooden spoon or rubber spatula to poke holes in 1-inch intervals in the cake.
4. In a medium bowl, whisk together dry pudding mix and milk until it just begins to thicken, approximately 1½ minutes. It should be slightly thickened.
5. Pour the pudding over the warm cake and specifically aim for the holes.
6. Use an offset spatula to spread the pudding over the entire cake. Gently push down on the pudding as you spread it over the cake.
7. Cover the cake with plastic wrap and refrigerate until completely cool (about 1-hour).
8. When cake is cool, spread the whipped topping over the pudding layer.
9. Recover the cake with plastic wrap and refrigerate until ready to serve.
10. While cake is in the fridge, place half (about 20) cookies in a Ziploc bag and crush them or use a food processor.
11. When ready to serve the cake, sprinkle the whipped topping layer with the crushed Oreos.