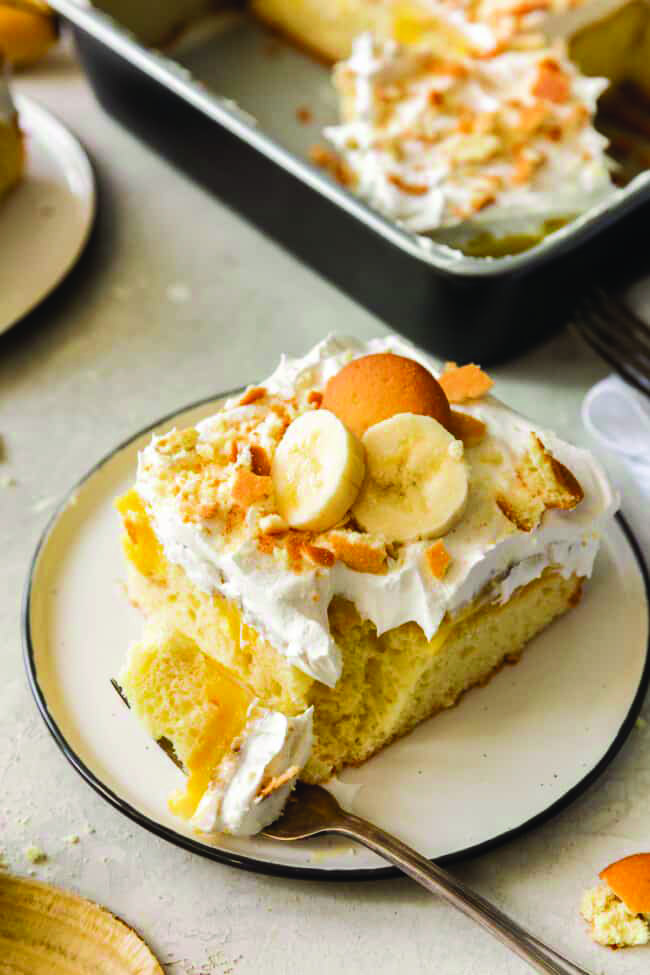 1 box yellow cake mix, plus ingredients called for on box
2 boxes vanilla pudding mix
3 cups milk
3 bananas, thinly sliced and divided
1 tub Cool Whip or 2 cups whipped heavy cream
20 vanilla wafer cookies, whole and crushed
1. Preheat the oven to 350 degrees. 2. Spray a 9 x 13-inch cake pan with cooking spray and set aside.
3. Prepare the cake mix according to box instructions. Pour batter into the prepared pan and bake according to package directions. Allow to cool for 10 minutes.
3. While the cake is cooling, make the pudding. In a small bowl, whisk together pudding packets and milk until thickened.
4. Using the end of a wooden spoon, poke holes all over the cake. Spread pudding mixture on top, then layer with ⅔ of the banana slices. Cover with plastic wrap and refrigerate at least 30 minutes.
5. Spread whipped cream on top, then garnish and sprinkle all over with vanilla wafers and remaining banana slices.